Pelican Grille
On the Golf Course! Open to the public!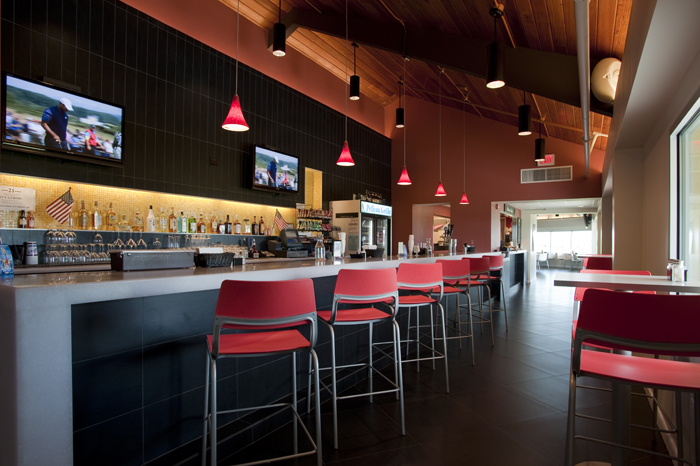 Breakfast 


Served Daily from 6:45am-11:00am
Breakfast Tacos (2)
Scrambled Eggs, Shredded Cheddar Cheese with a choice of Bacon, Breakfast Sausage or Potatoes wrapped in a warm Tortilla and served with Fresh Salsa.
Sunrise Breakfast Sandwich
2 Fried Eggs, American Cheese with a choice of Bacon, Breakfast Sausage or Ham served on Sourdough/Wheat Toast or English Muffin
Breakfast Plate
2 Eggs made your way, 2 Slices of Bacon or a Breakfast Sausage Patty, Potatoes
and 2 Slices of Sourdough/Wheat Toast
On the Green
Grilled Chicken Salad
Lettuce, Tomato, Onions, Cheddar and Croutons with a choice of Dressing.
Salad Dressings: Ranch, Italian, Honey Mustard, Balsamic Vinaigrette, Caesar, Thousand Island and Blue Cheese
Favorites
The Birdie Panini
Grilled Chicken Breast, Provolone Cheese, Bacon, Tomatoes and Ranch Dressing served on Sourdough 
The Pelican Club
The Classic Club Sandwich with Roasted Turkey Breast, Baked Ham, Bacon, American Cheese, Swiss Cheese, Lettuce, Tomato, Onion, Pickles and Mayonnaise served on your choice of Sourdough/Wheat Bread 
Peninsula Cheeseburger
Cheeseburger with your choice of cheese
served on a toasted bun

Chicken Strip Basket 
Chicken Strips with Fries and Dipping Sauce
 
Chicken Quesadillas
Grilled Chicken Breast on warm Flour Tortillas with Tomatoes, Onions, Jalapenos, Shredded Cheddar Cheese served with Fresh Salsa, Sour Cream and Tortilla Chips
Chicken  Tacos
Grilled Chicken (2) Four Tortillas served with Lettuce, Diced Tomatoes, Shredded Cheddar Cheese, a side of Fresh Salsa, Sour Cream and Tortilla Chips
Sandwiches served with choice of French Fries, Onion Rings (for $1 more) or a Bag of Chips
Bread choices: Whole Wheat or Sourdough


Cheeses: American, Cheddar, Swiss,  Pepper Jack or provolone





On the Turn




Served up Quick! Your choice with a bag of chips.
Grilled Brat
Hot Dog
Deli Sandwich
Sides
Basket of French Fries
Basket of Onion Rings
Chips & Salsa
Mozzarella Stix
Selection and prices subject to change.